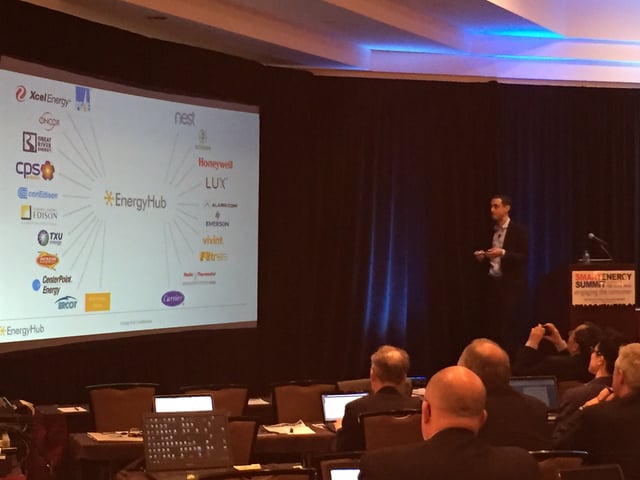 EnergyHub's President and Co-Founder, Seth Frader-Thompson, delivered a well received keynote speech at this year's Smart Energy Summit, hosted by Parks Associates.
Seth's talk, titled "Connected Thermostats: A Revolution Driving Value for Utilities and Service Providers," focused on moving past the hype around connected thermostats to share real data on how stakeholders including utilities, connected home service providers, device vendors, and customers are already getting serious value out of these devices. Using EnergyHub's unique position as a device-agnostic demand response platform provider, Seth shared insights relevant for the whole audience on how connected thermostats are performing in the market.
Some highlights from Seth's address included:
The growth of Bring Your Own Thermostat® demand response
BYOT adoption is on the rise: the number of BYOT programs in operation grew from just two programs in 2012 to 17 programs in 2016.
Navigant Research puts the current total addressable market for BYOT demand response at 20 million homes today. We see this number growing to 35 million homes by the end of 2015.
Average revenue per user (ARPU) generated by BYOT programs has nearly doubled since 2014.
The benefits of letting connected thermostat customers opt out of demand response events
Allowing customers to opt out:
Increases the rate of response to program solicitation by 20%.
Statistically has no impact on kW reduction.
How connected thermostats impact revenue for service providers
Connected thermostat adoption increases customer lifetime value by over 10%.
Interested in additional data on how connected thermostats are generating value for utilities and service providers? Download a copy of Seth's keynote slides to learn more.